Today's Amazing Winter Read - "Everything You Need: 8 Essential Steps To A Life Of Confidence In The
Author: Jeuel Pavitt Date Posted:24 August 2021
In the times in which we live, many are losing confidence, and becoming concerned with a simple basic questions like - "How are we going to get through this?" "Are these difficult times ever going to end?"
For many there life is so difficult, that it appears there is just no hope in sight.
Acclaimed New York Times best selling author and renowned speaker Dr. David Jeremiah, however, shows us in his book "Everything You Need" even in these difficult times there are "8 Essential Steps to a Life of Confidence in the Promises of God."
Description: Many Christians feel unprepared and uncertain when it comes to living each day as followers of Christ. We often know what we are supposed to do, and even why we are supposed to do it. Yet when we lack confidence in ourselves and our spiritual development, we fail to live boldly as difference makers in our world. As one of the world's leading Bible teachers, Dr. David Jeremiah wants readers to know that this lack of confidence is both unnecessary and unhelpful. In fact, the Bible makes it clear that-in the same way skilled hikers pack all the necessary supplies before a journey-God Himself equips all believers with everything they need to walk and work with confidence as members of His kingdom. Everything You Need continues Dr. Jeremiah's focus on helping the church strive for spiritual victory through Christ. Using his signature depth, wisdom, and compassion, Dr. Jeremiah explores 2 Peter 1:5-10 to highlight seven critical tools God provides each of His people: virtue, knowledge, self-control, perseverance, godliness, brotherly kindness, and love. When we use the equipment God provides, we can live confidently in the knowledge that we will never stumble.
- Publisher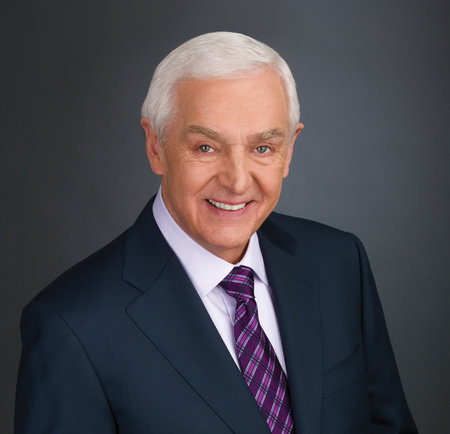 About The Author: David Jeremiah is the founder of Turning Point, an international ministry committed to providing Christians with sound Bible teaching through radio and television, the Internet, live events, and resource materials and books. He is the author of more than fifty books including Is This the End, The Spiritual Warfare Answer Book, The David Jeremiah Morning and Evening Devotional, and Airship Genesis Kids Study Bible. David serves as the senior pastor of Shadow Mountain Community Church in San Diego, California, where he resides with his wife, Donna. They have four grown children and twelve grandchildren.
- Publisher
If you have read this book already we would love to hear from you, simply comment on this post or leave some feedback on our Comments/Review form with what you thought of it. Better still, why not join the ALC Bookchat Club by Googling alcbookchatclub.com and then click on the Login Icon at the top right of the screen, After this, type in your e-mail address and password of your choice and then click "sign up". Once you have joined the club you can chat with other members or join a group and discuss all you favorite Christian books. To chat after you have joined, just click on the chat button on the bottom right of your screen and then click new chat. In the pop up, type in the name of the member you want to chat with and then type them a message and press the little paper plane send icon on the right to send message. You can also join a discussion group by hovering the cursor over the word "More" on the tool bar at the top of the screen, scroll down to the word "Groups" and click on it. When the new screen pops up click on the word "Join" to join the group for discussion. Join today and enjoy chatting about all your favorite Christian Books.
---
Leave a comment