Location & Hours
Author: Abundant Life Christian Bookstore Date Posted:30 October 2019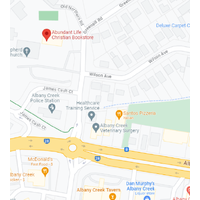 Abundant Life Christian Bookstore
Location: 185 Old Northern Road, Albany Creek Qld 4035
Hours of Business:
Monday: 9am - 5pm
Tuesday: 9am - 5pm
Wednesday: 9am - 5pm
Thursday: 9am - 5pm
Friday: 9am - 5pm
Saturday 9am - 4pm
Note: Store is closed on all Public Holidays.
Special Note:
Just letting everyone know, with the Qld Government Lockdown now ended, Abundant Life Christian Bookstore is now open Monday to Friday 9am - 5pm and Saturday 9am - 4pm for your convenience.
If however, you are entering our store according to Queensland Government Guidelines, and you will be required to scan the QR code which is on the table at the entrance to the store, use the hand sanitizer provided and keep in mind all social distancing guidelines of staying 1.5 Metres apart.
We thank you for your cooperation as we all work through the trying times in which we are now living.
Phone: 07 -3264 3476 Mobile: 0450 272 024
E-Mail: bookstore@baptist.com.au
Christmas/New Year Trading Hours 2021 -
Monday - Friday 9am - 5pm Up to Christmas Eve
Saturday 9am - 4pm Up To Christmas Eve
Christmas Day: Closed
Boxing Day: Closed
New Years Day 2022: Closed
Please also note that our store is closed for 2 weeks from the 27th December 2021 to the 9th January 2022. This is to give our loyal volunteers a much needed rest. We will reopen again from Monday the 10th January 2022 with our regular trading hours Monday - Friday 9am - 5pm and Saturday 9am - 4pm.
Should you have any enquiries, please call us on the phone numbers listed above or contact us via e-mail at bookstore@baptist.com.au or send us an enquiry via our contact form on our website.